Chang'an University, or CHD, is a national key university. Under the direct leadership of the Ministry of Education, it
is listed under Project 211,
Project 985 Innovation Platform, and Double First-Class Project of China.
Located in Xi'an City, Shaanxi Province, CHD has two campuses and three training bases, with a total area of 250 hectares.
In 1951, CHD was first built as Xi'an Highway University. Merged with Xi'an Engineering Institute and Northwest Institute of Construction Engineering, it was later renamed Chang'an University in 2000. Since 2005, CHD has been successively financed and supported by Ministry of Education, Ministry of Transport, People's Government of Shaanxi Province, Ministry of Natural Resources, and Ministry of Housing and Urban-Rural Development.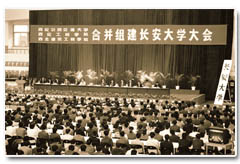 CHD has 24 schools and departments which offer advanced degree programs in 7 major fields, namely, engineering, science, management, economics, philosophy, law and literature. Many research institutions are launched in the new era, such as Modern Transportation Research Institute, Qinling Ecological Environment Research Institute, Yellow River Research Institute, Sichuan-Tibet Railway Engineering Research Institute, Hangzhou Future Transportation Research Institute, and Xiong'an Modern Industry Research Institute. CHD has 4 academicians from the Chinese Academy of Sciences, Chinese Academy of Engineering, and Singapore Academy of Engineering. CHD faculty is composed of over 1,400 professors and associate professors, including 359 doctoral supervisors and 1056 master supervisors. At present, CHD has over 25,000 registered undergraduates, 10,000 master's and doctor's candidates, and 1,700 international students.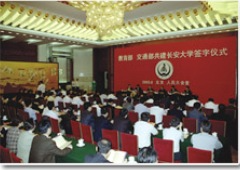 CHD has 9 first-level disciplines in doctoral level, 33 first-level disciplines in master's level, and 9 post-doctoral research centers. Six disciplines are listed top 1% of ESI. There are 84 undergraduate majors currently. 50 undergraduate majors are selected as first-class majors in the National Double Ten Thousand Plan, and 23 undergraduate majors have got the certification of national engineering.

CHD is known as the cradle of highway and transportation talents. Over the years, it has produced more than 300,000 outstanding professionals at home and abroad. Among CHD alumni, many of them have worked as engineers, scientists, politicians and entrepreneurs, such as Su Quanke, chief engineer of the Hong Kong-Zhuhai-Macao Bridge, Ding Han, academician of the Chinese Academy of Sciences, and Feng Zhenglin, director of the Civil Aviation Administration of China. CHD has been selected as the national practice base and national experienced university on innovation and entrepreneurship of college students.
CHD has 5 national experimental teaching centers, 19 provincial experimental teaching demonstration centers, 2 national engineering laboratories, 1 international joint laboratory, 1 national applied mathematics center, and 91 provincial and ministerial level key research bases. Connected and automated vehicle test field, built exclusively at CHD in domestic universities, is recognized by the Ministry of Transport as one of the country's three national closed field test base of autonomous driving.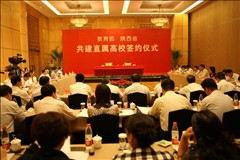 CHD attaches great importance to academic innovation, creating a four-in-one scientific and technological innovation system of "great teams, grand platforms, major projects and fruitful achievements". The scientific research funding exceeds 960 million RMB annually. In recent years, CHD won 22 first and second prizes of the National Science and Technology Progress Award. More than 1,300 patents are authorized each year. CHD has successively overcome the complete set of scientific and technological problems in road construction in special areas, developed a disaster warning system for loess landslides and large-scale collapses, and solved the problem of ground fissure risk prevention in subway construction. In the new era, the university actively deploys interdisciplinary strategies, such as 'wisdom+', 'green+' and 'big data+', aiming to transform and upgrade traditional industry in the future.

CHD focuses on the promotion and application of its scientific research results, applied in marvelous constructions of Hong Kong-Zhuhai-Macao Bridge, Beijing Daxing International Airport, Hutong Yangtze River Bridge, Qinghai-Tibet Highway, QinlingZhongnanshan Highway Tunnel and Yujing Expressway. The university has established in-depth strategic partnerships with dozens of Fortune 500 companies.
CHD publishes 8 influential journals. Among 8 academic journals, 5 journals are selected into the core journals of China.

CHD conducts a Sino-foreign cooperative education institution named Chang'an Dublin International College of Transportation, a Confucius Institute named Maldives Velaa College Chinese Center, an international cooperation joint laboratory on sustainable development of highway transportation infrastructure in special area and 5 discipline innovation and talent recruitment bases of Project 111. Besides, it establishes an international technology transfer center among China and Russia transportation universities and held a series of international forums for the docking of highway engineering standards between China and the United States, China and Russia, China and France, and China and South Africa, promoting the coordination of international transportation standards. The university actively participates in the planning, organization and operation of the World Transport Conference (WTC). Besides, it has international cooperation with large national enterprises, such as China Road & Bridge Corporation, China Communications Construction Company Limited, China Railway Engineering Equipment Group Company Limited, and China Railway Construction Group Corporation Limited. CHD has cooperation programs with more than 170 universities and scientific research institutions in more than 30 countries and regions in the world.
To date, CHD has become an important base for talent training and scientific research in three major fields, namely, highway transportation, land and resources, and urban and rural construction in China. Guided by Xi Jinping's thoughts on socialism with Chinese characteristics in the new era, CHD will continue to pursue excellence in an effort to build itself into a world-class university.